Finchley Bowling Club was established in 1922. Its fine facilities are regularly used to host finals of Middlesex county and Finchley & District competitions.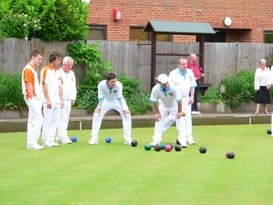 In 1921 A.W. Smith offered a parcel of land 150 x 180 feet for sale for the creation of a private bowling club. The land was within Smith's own Etchingham Park Estate and was offered for £750. The deal was completed on 24th December 1921, whereupon Smith became one of 104 founder members of the bowling club, and was subsequently President for two years, in 1926-7.
In the 1960s Leslie Atkinson was one of Middlesex's top players, earning a place in the county's Middleton Cup team for 13 consecutive years between 1955-67, including the Cup winning squads of 1962 and 1965.
Various improvements were made to the grounds, facilities and clubhouse over the years, with the current clubhouse being completed in the mid 1980s. In 1978 members voted in favour of creating a dedicated ladies bowling section.
Moving forward to the early 1990s, John Morley became Middlesex singles Champion (1991); he and Len Rutt also featured in Middleton Cup squads of the era, and collectively the pair of them qualified for the "all England" finals at Worthing seven times. During the same period Mrs C Clark became a leading female Middlesex player, and a 'Champion of Champions' singles winner (1993).
More recently, whilst Middlesex-level successes have been more elusive, the club has recorded a number of successes in the last five years in various Finchley & District competitions, and since 2012 further Middleton Cup caps have been gained for the club by Ian Ellis.
See the Honours page for details of all the most notable successes by the club and its members.